CBD oil 10% Egis Natural 1000mg 1x 10ml
Egis Natuurlijk ensures the highest quality oil and uses specially selected hemp for its products. Want to know if CBD oil can be beneficial to your health? Try it out with this CBD oil 10% in a small bottle.
Out of stock
Composition CBD oil 10% Egis Natuurlijk full spectrum
CBD: 10%
Number of CBD / CBDa mg: 1000mg
Amount: 1 x bottle of 10 ml
Formula: CO2 extraction
This product is a dietary supplement and is not a substitute for a balanced diet. In case of pregnancy, lactation, medicine use, and illness: seek medical advice before using this supplement.
CBD oil Egis Natuurlijk
If we speak from our own personal experience, CBD oil with a percentage of 10% can provide good results. We always recommend new users of CBD oil to start with a small dose or a low percentage.
CBD oil 10% Egis Natuurlijk comes in a small bottle (10 ml) and so is perfect to try out. We also have CBD oil 10% in a 30 ml bottle. The oil has a golden brown color and a mild taste.
In addition to the main ingredients CBD and CBDA, This CO2 extracted hemp oil also contains terpenes, various vitamins, minerals and omega 3 and 6 fatty acids. Egis Natuurlijk CBD oil does not contain THC, so don't worry: you won't get stoned of high.
Lab test results 10%
All Egis oils are lab tested. You can see the test results of the lab below.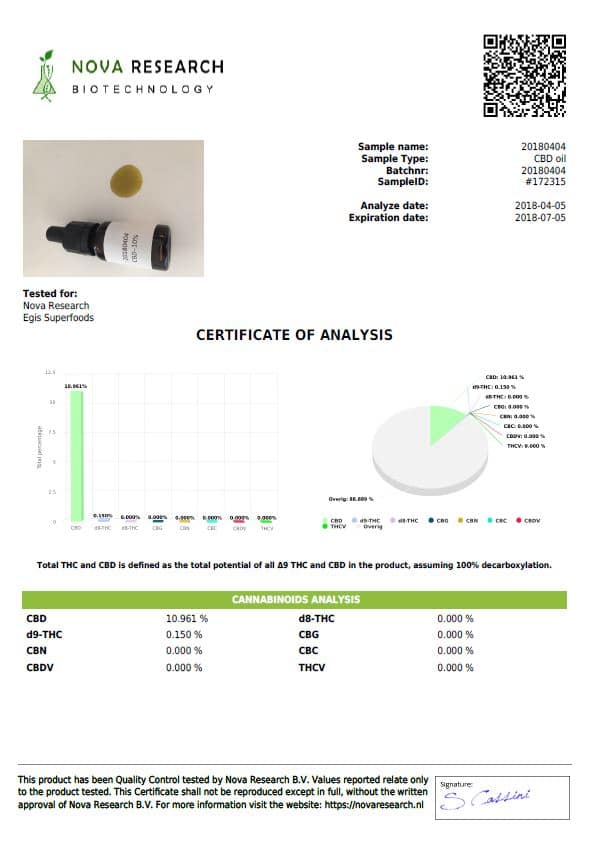 | | |
| --- | --- |
| Percentage of CBD | 10% |
| Production method | CO2 extraction (bitter) |
| Capacity | 10ml |
| Brand | Egis Natuurlijk |
---